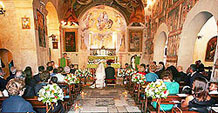 CERI Immaculate Conception CHURCH - CHIESA DELL'IMMACOLATA CONCEZIONE DI CERI
This is a central block together with the canonical church. Ceri is located at the highest point. It is also known as Ceri Holy Mother Church. The building has splendid fresco paintings but you can enjoy the captivating views from the stone steps.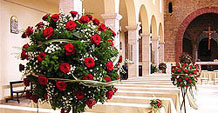 Santa Maria Maggiore Cerveteri CHURH - CHIESA DI SANTA MARIA MAGGIORE, CERVETERI
Santa Maria Maggiore Church is located at the very heart of the historic centre. This is the most important church in Cerveteri. This complex comprises two separate churches – one of the Latin era and one of modern days, built in the early twentieth century. They are connected with each other with a major arch.
The building was extended in 1950 by adding a new building in the right passage. The elegant façade and the jetty with a rose window (large round window disjointed by the figured casement so that it makes a star or a bloomed flower with symmetrically located petals) and seven smaller windows reflect the Latin style of the old church. The interior is divided into three naves and five columns.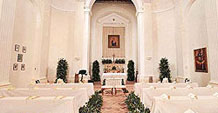 SANTO MICHELE - PALO LAZIALE BASILICA - BASILICA S.MICHELE, PALO LAZIALE
Palo Laziale Santo Michele Basilica is a perfect place for a romantic wedding party at the seaside
Its white walls will lighten the whole ceremony. This is a picturesque territory surrounded by the nature. It was a fishermen's village in old times.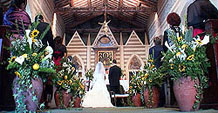 Celsano Ponte Galeria Santa Maria CHURCH - CHIESA DI SANTA MARIA IN CELSANO PONTE GALERIA
It is built in an old-time Latin house, is almost hidden by the nearby buildings and is erected on the ruins belonging to the Latin era.
One can access it via stone steps but its façade has some ogive arches (this is a typical gothic style) capped by a rose window (large round window in gothic style) and gypsum ornaments.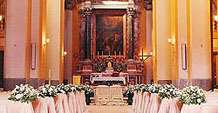 Santo Stefano di Bracciano CATHEDRAL - DUOMO DI SANTO STEFANO DI BRACCIANO
It is located behind the walls surrounding Odescalchi Castle and is a part of the medieval city of Bracciano.
This is a baroque church with the atmosphere of solemnity and devotion.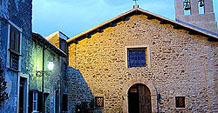 SAINT CROSS CHURCH – SASSO - CHIESA DI SANTA CROCE, SASSO
A case with the halidom of Christian Cross is kept in this church.
It gave the name to the square and is the centre of the region, alongside with the baron's building.